Evaluating Academic Advising
Client: Rhode Island School of Design Dean of Faculty | Role: Service design & strategy | Year: 2017
Project abstract
The challenge: For my Senior Project in Industrial Design, I approached the Dean of Faculty at RISD to identify a project I could work on to benefit the university. Student satisfaction with academic advising had recently been added as a factor in RISD's accreditation process, so the Dean of Faculty tasked me to help her and the broader administration understand faculty, student, and staff experiences and expectations surrounding academic advising.
The solution: Over the course of the semester, I identified opportunities for improvement, tested prototypes, and recommended short-term and long-term strategies to improve the existing system.
The outcomes: The Dean of Faculty used my report and recommendations to inform centralization of academic resources within a student success center on campus.
Project approach
Timeline: 14 weeks
Team contribution: This was an independent project.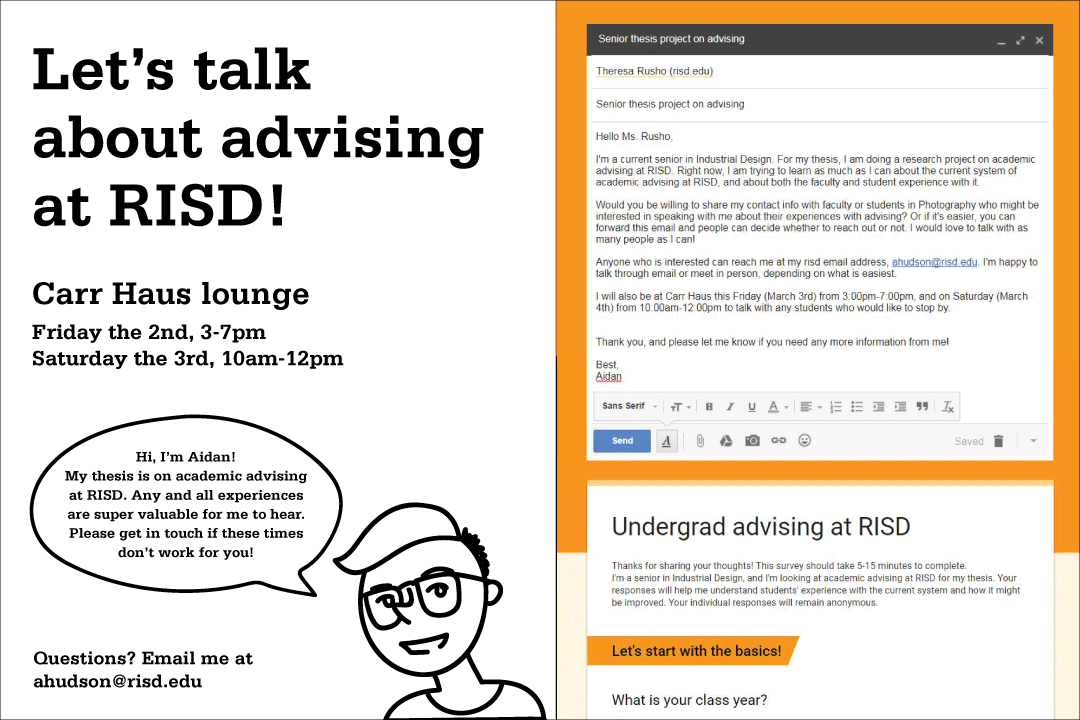 First, understand the current advising system and experiences of faculty, students, and administrators.
I began my research by reading through the current resources about advising that are available to the RISD community. I wanted to understand the public definition of advising and what students and faculty would see if they wanted to learn more about the advising role. I then interviewed students, faculty, and staff in a range of departments to understand their experiences with advising. I wanted to make sure that I fully understood the current system before recommending changes.
Depending on what worked best for my participants, I met face-to-face or corresponded over email. To increase my response rate, I also held open hours in RISD's student center and released a survey to the student body.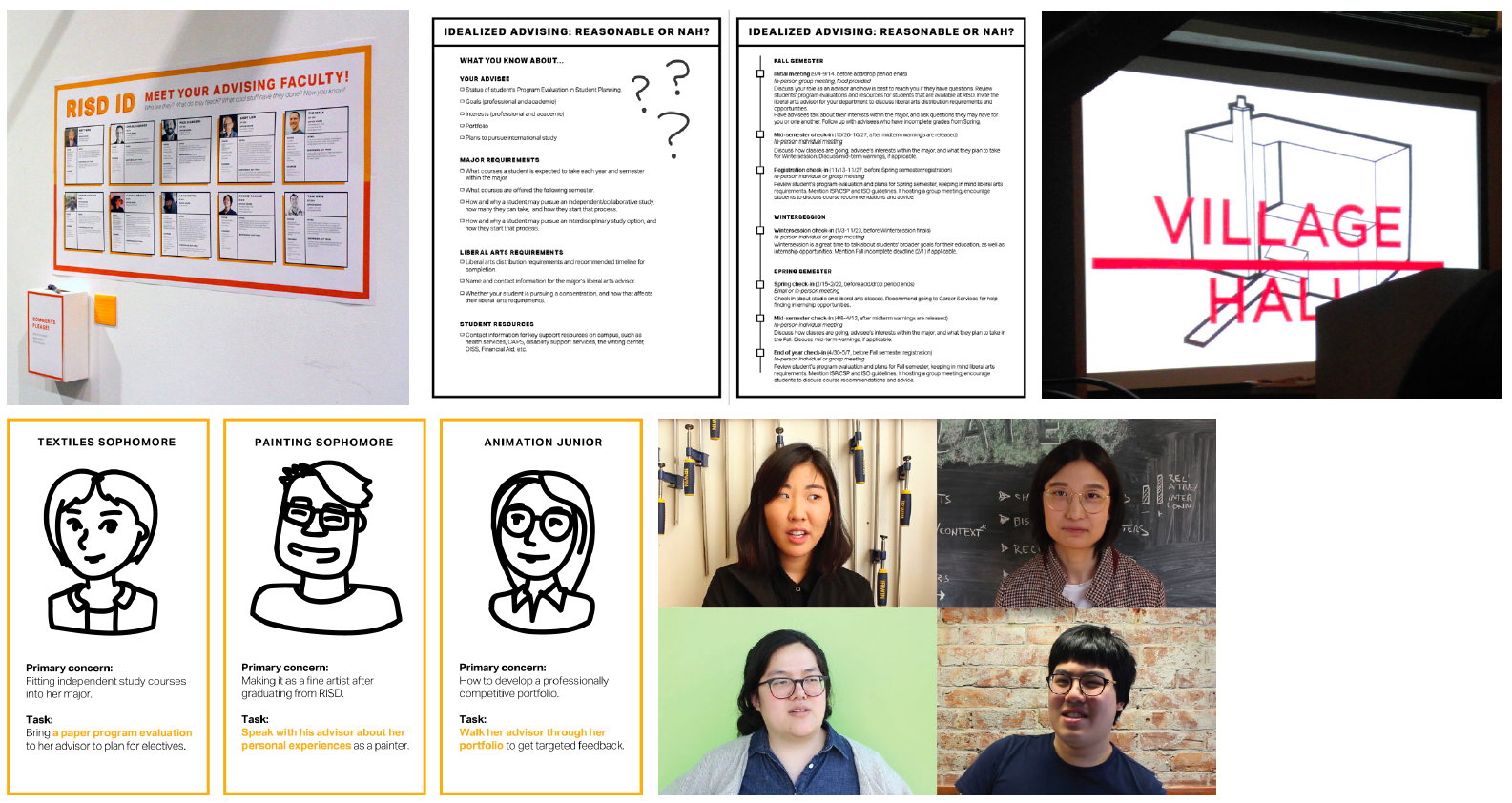 Then, highlight discrepancies between the intended system and the actual system to communicate insights at a glance.
It was clear from my interactions with the Dean of Faculty that many of the challenges to improving advising stemmed from the fact that her position of authority prevented her from seeing how the system actually functioned. A central goal for communicating my insights was to highlight the disparity between the actual and intended system as clearly as possible. This helped me focus on what was working well about the informal system and what might need to change to accomplish the goals of the formal advising system.
Key deliverable: Phase 1 findings report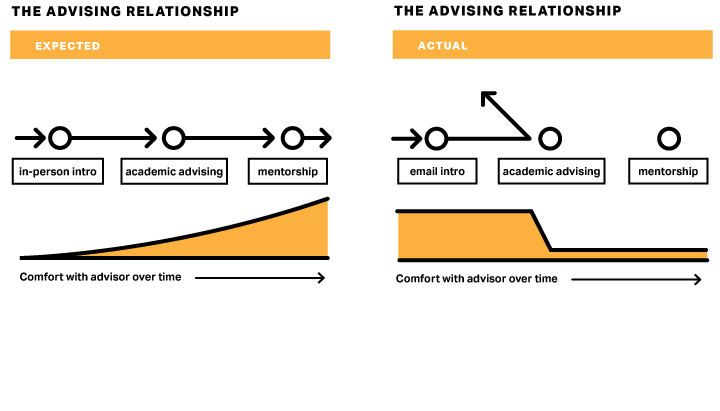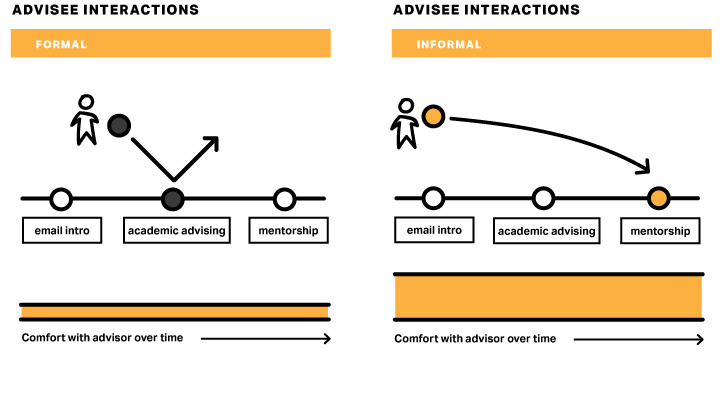 Then, prototype solutions for unmet needs.
After sharing my initial findings report, I ran five design experiments to test initial hypotheses about how to improve advising meetings, which students and faculty identified as the highest-value aspect of the advising system.
The meet your faculty board tested the hypothesis that sharing details about faculty's courses and professional work would facilitate informal advising appointments based on shared interests. (It did, though students also wanted to see faculty members' portfolios.)
The advising timeline tested the hypothesis that faculty's understanding of their advising responsibilities did not correspond with administration's expectations. (It did not.)
Attending a department meeting let me record questions students asked to see if they corresponded with my understanding of what students most wanted to know in their sophomore and junior year. (They did.)
Curated meetings tested the hypothesis that having a single goal for the visit would result in a more productive meeting. (It did, though my participants mentioned that they wouldn't have taken the initiative to meet with their advisors had I not encouraged them to do so.)
Video interviews tested whether students across departments shared similar views on advising at RISD, and allowed me to quickly communicate the gaps in the current system to administration. (They did, and the video was a strong proof point for the Dean of Faculty.)
I used the findings from these experiments to develop my four final advising interventions.
Key deliverable: Design experiments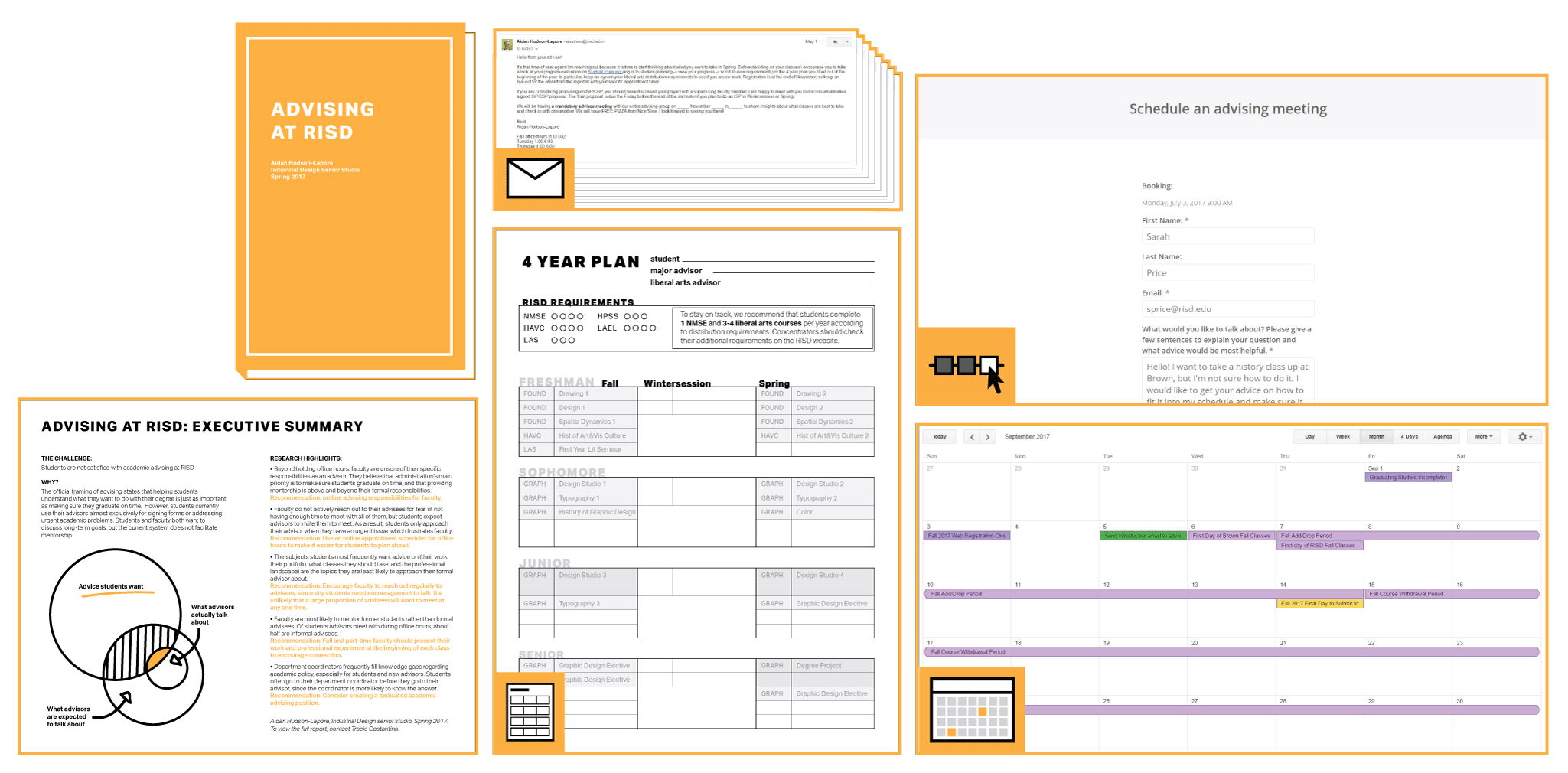 Finally, report findings and recommendations and share results with participants.
I created a final report, executive summary of findings, and four prototype interventions for the Dean of Faculty to read and share with other senior administrators.
Prototypes included:
4/5 year plan template with requirements for each department.
Google advising calendar for students and faculty to keep track of administrative deadlines like course registration and internship course credit applications.
Office hour scheduling system via Youcanbook.me.
Advising email templates to minimize faculty burden around communicating academic deadlines.
These prototypes were designed to fill the simple but significant gaps most frequently mentioned by students and faculty. All these tools are designed to streamline important but logistically irritating aspects of advising so that advisors can focus on developing meaningful relationships with their advisees.
After presenting to the Dean of Faculty, I distributed the final report to everyone who had participated in my research as a thank you.
Key deliverables: Prototypes for quick wins in the advising system, final findings and recommendations report