Advising at RISD
Client: Rhode Island School of Design Dean of Faculty | Role: Service design | Year: 2017
Project Abstract
RISD administration states that the goal of academic advising is to "help students meet the requirements of their degree at RISD and become individuals responsible for crafting their own futures". In the past few years, RISD has made significant progress on the first part of this goal. However, there's a problem:
Neither students nor faculty are satisfied with academic advising at RISD.
For my Senior Project in Industrial Design, the Dean of Faculty at RISD tasked me to research faculty, student, and staff experiences and expectations surrounding advising, identify opportunities for improvement, and design interventions to improve the existing system.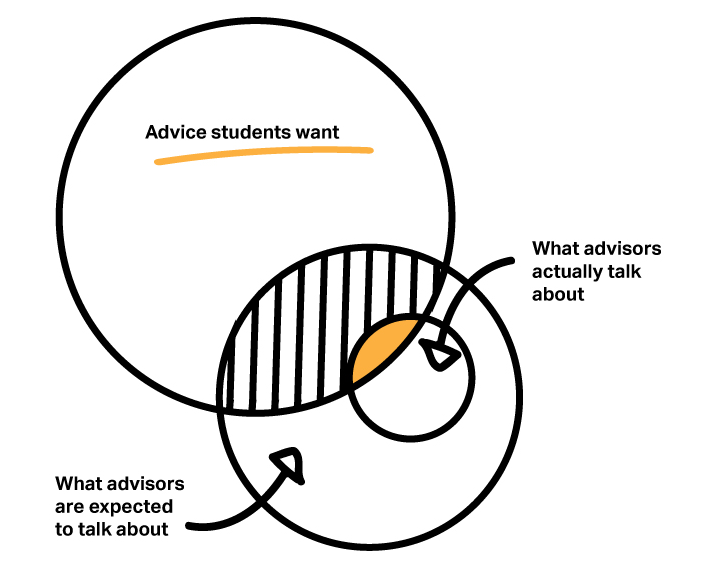 Key findings:
Students and advisors are not having meaningful discussions, despite the fact that both students and faculty find deep engagement most rewarding.
Faculty do not actively reach out to their advisees for fear of not having enough time to meet with all of them, but students expect advisors to invite them to meet. As a result, students only approach their advisor when they have an urgent issue, which frustrates faculty.
Beyond holding office hours, faculty members are unsure of their specific responsibilities as an advisor. They believe that administration's main priority is to make sure students graduate on time, and thus that providing mentorship is above and beyond their formal responsibilities.
The subjects students most frequently want advice on (their work, their portfolio, what classes they should take, and the professional landscape) are the topics they are least likely to approach their advisor about. Many students feel like their advisors do not know them well enough to offer this kind of advice.
Faculty are most likely to mentor former students rather than formal advisees. Of students advisors meet with during office hours, about half are informal advisees.
Expected vs. Actual: Key disparities in the existing academic advising system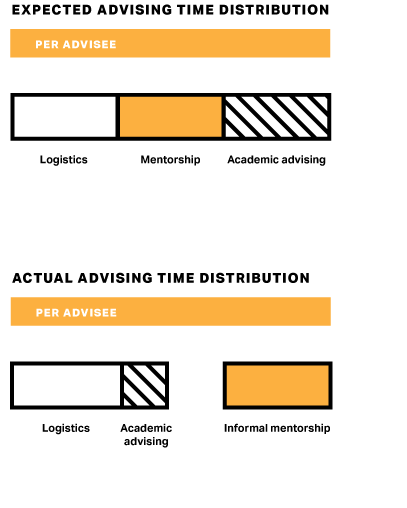 Why the disparity at the advisee level?
Most advisees only reach out to their advisor when they have an urgent deadline, so there is little opportunity to anticipate problems before they arise.
Most faculty members have a number of former students who seek them out when they want long-term advice.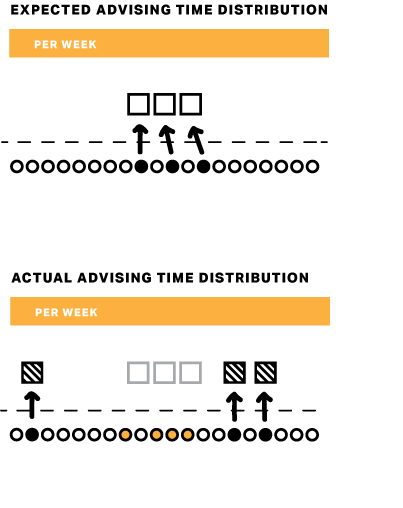 Why the disparity at a weekly level?
It is difficult to schedule office hours that work with every student's schedule, so students often schedule alternate times.
Advisors do not want to be in their office if they will not be speaking with anyone.
Students with urgent need for appointments demand fast turnaround, which is rarely during scheduled office hours. Students who do not have pressing questions may not reach out because they see their advisor as being too busy.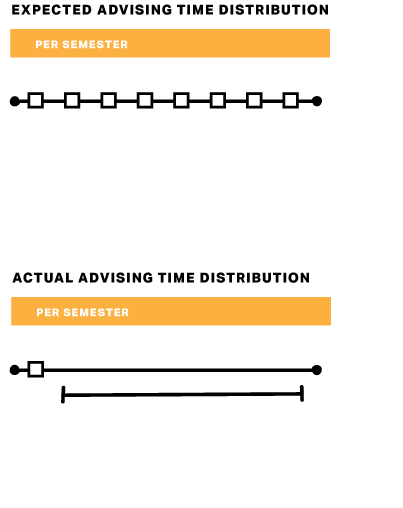 Why the disparity at the semester level?
Advising is rarely high on faculty's list of priorities.
Faculty do not want to waste time extending an invitation to advisees to meet, because students often don't respond.
It is most efficient to wait for students to contact them as questions arise. Faculty worry they will be swarmed if they actively encourage students to meet with them.
Expected vs. Actual: Advising Relationship and Interactions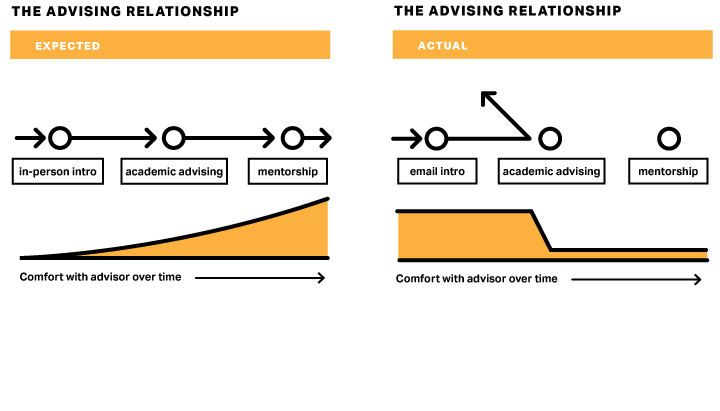 The advising relationship: Why the disparity?
The current advising system is set up with the assumption that students will grow more comfortable with their advisor as they have conversations about their academic requirements.
In reality, students feel their advisor only cares about making sure they graduate on time, and take it as evidence that their advisor does not care about them as an individual.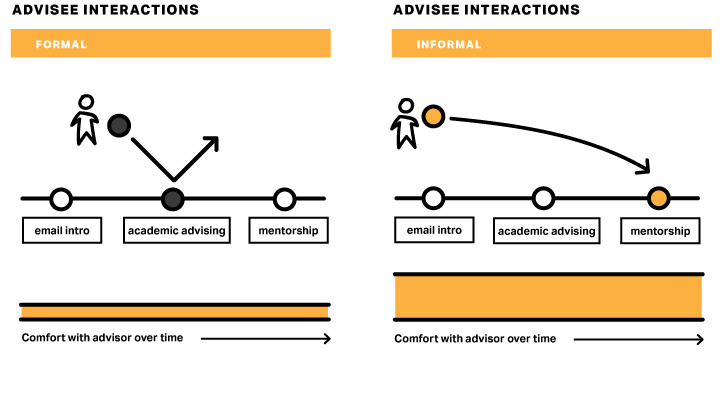 Advisee interactions: Why the disparity?
Instead of consulting their formal advisors to help them make a decision, students most frequently come for permission for a decision that they have already made or to sign a form. These students often do not come to 1:1 or group meetings when invited, so their formal advisor often knows little about their interests or goals.
Almost all mentorship conversations occur between faculty and former students who are not formal advisees. Typically, these students have established a good rapport with that professor and feel like they share common interests. These students only go to their formal advisor when they need to get forms signed.
Department coordinators frequently fill knowledge gaps regarding academic policy, especially for students and new advisors.
Many forms that require a signature from the department head are routed through the department coordinators. As a result, they are more knowledgeable about the processes required to solve common academic questions than any advisor. Both students and faculty frequently approach department coordinators to ask administrative questions such as what credits can be substituted for others, how a student might transfer credits, and other details of academic policy. This, combined with the fact that department coordinators are almost always in their office, means that they end up supporting academic advising to a far greater extent than is formally recognized.
Interventions
The Advising Toolkit: 4/5 year plan, Google advising calendar,  Advising email templates, Office hour scheduling system
In addition to my written report, I prototyped an advising toolkit designed to fill the simple but significant gaps most frequently mentioned by students and faculty. All these tools are designed to streamline important but logistically irritating aspects of advising so that advisors can focus on developing meaningful relationships with their advisees.

4/5 year plan
Existing tools do not help students plan requirements ahead more than one semester at a time. Students are notoriously unaware of their liberal arts distribution requirements, and many students do not realize until their junior or senior year that they are behind on their requirements, and have to rush to meet them.
Key features:
1. All liberal arts distribution requirements are listed in one place so students can easily track their progress.
2. Major requirements are pre-loaded in the plan for each department, so it is easy for students and advisors to plan ahead.
3. Answers to frequently asked questions regarding course planning are on the reverse side of the sheet, centralizing information that is otherwise difficult to track down.
Google advising calendar
The existing academic calendar is available only on the registrar's website, which people rarely remember to check until they have already missed the deadline. RISD uses Google apps for education, but does not yet take advantage of the full functionality of google calendars.
Key features:
1. The faculty calendar includes all important dates on the academic calendar for quick reference. Event descriptions include a link to the relevant page on the registrar's site.
2. The faculty calendar includes reminders to send advising emails at designated points throughout the year.
3. Particularly advising-relevant deadlines are highlighted in yellow.
4. The student calendar includes all major dates from the academic calendar, but also sends students reminders for important application deadlines. All event descriptions include a link to the relevant page on the registrar's site.
Advising email templates
Many students expressed a desire to hear from their advisors more regularly, but advisors worry they will be overwhelmed if all advisees want to meet. Template emails help advisors focus their time on students who want their help most.
Key features:
1. The emails are clearly marked as being from each student's academic advisor, making them less likely to be lost in inbox clutter.
2. Important information about common concerns are baked into the email templates, so advisors don't need to wast time looking them up.
3. An invitation to meet helps students feel comfortable reaching out to their advisor early, rather than waiting until a crisis. 
4. Faculty office hours, location, and alink to schedule an appointment are included at the bottom of every email, which makes sure office hours are being used efficiently.
Office hour scheduling system
Students don't know when faculty office hours are, and faculty are frustrated when students expect to meet outside of office hours. I recommend that RISD requires all advisors to use YouCanBook.me, a free online scheduling app that synchs with google calendar.
Key features:
1. Faculty can make sure appointments are scheduled only during their office hours.
2. Students select an available time that works for them.
3. Faculty can require students to explain their reason for meeting, and catch concerns that can be addressed with a quick email before an extended in-person meeting.
Want more detail? Read the full report here!
I delivered this report to the Dean of Faculty to communicate the results of my research and help inform future advising initiatives.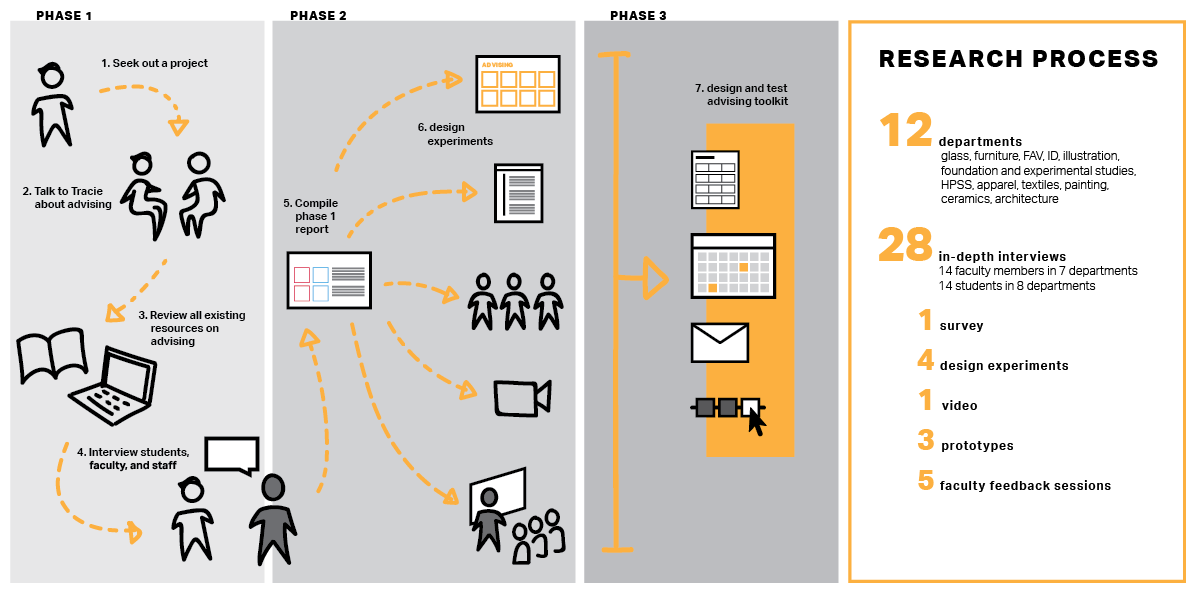 Phase One: Understanding the current system
Review of existing resources
I began my research by reading through the current resources about advising that are available to the RISD community. I wanted to understand the public definition of advising and what a student would see if they wanted to learn more about the advising role. These materials clearly communicate that advisors are meant to fill an academic advising and mentorship role for students, but that there is little specific information on what exactly is appropriate to ask your advisor.
Faculty, staff, and student interviews
I interviewed students, faculty, and staff in a range of departments to understand their experiences with advising. I wanted to make sure that I understood the current system before recommending changes.
Depending on what worked best for my participants, I met people face-to-face or corresponded over email. To increase my response rate, I held open hours in RISD's student center and released a survey to the student body.
Phase Two: Prototyping and design experiments
Meet your faculty pilot
A common complaint expressed by students was that they do not know much about faculty's work or professional experience, so don't know who is best to approach with specific questions. Even some faculty do not know about their colleagues' work, which makes it difficult to refer students to faculty who share their interests. I asked faculty members in ID to fill out a short profile detailing their office hours, professional interests, courses they had taught, a short intro, and a conversation starter. I hung it in ID along with a comment box to collect reactions.
Students appreciated having access to faculty bios, but commented that what they most wanted to see was their work.
Advising timeline
I decided to seek out studio faculty members at their office hours to ask about whether administration's stated expectations of advisors seemed reasonable to them.
I was ultimately unable to find many faculty members to speak with because the majority were not in their office during posted hours, or were already busy with another student. This taught me that office hours at RISD are effectively by appointment only. This indicated to me that a smoother appointment system would help both students and faculty.
Curated meetings
I wanted to test theories I had about how to build connection within advising appointments. I recruited three students who agreed to have a meeting with their advisor and employ an intervention I suggested. I interviewed them about their experiences with their advisor both before and after their meeting.
Each student had a helpful interaction with their advisor and expressed interest in seeing them in the future, but told me they never would have considered meeting with their advisor had I not asked them to do so.
Video interviews
Since I found out that many faculty did not know that students were interested in speaking to them, I decided to make a video highlighting how students responded when asked for their thoughts on advising at RISD.
The student experience with advising is remarkably consistent across departments. Students' responses in these videos echoed the responses I got in my initial round of interviews.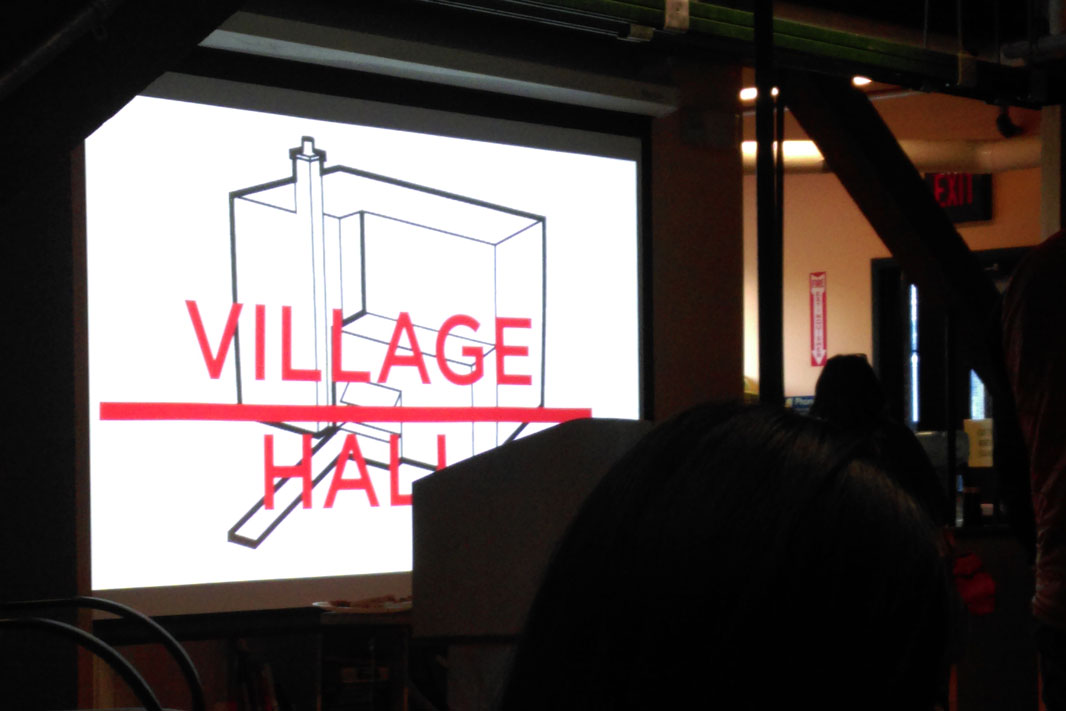 Department meeting
I attended an industrial design department meeting to gauge attendance and learn what sophomores and juniors were most curious about. A large number of students attended, and the majority stayed for the whole presentation, which was over an hour long.
Echoing my findings from the Faculty Board, students were most interested in how to find faculty members who shared their interests so they knew who was best to go to with specific questions.
Final Deliverables: Report, executive summary, and advising toolkit