Upshot: An institutional feedback platform for the digital age
Client: Student project | Role: Service design & strategy | Year: 2016
Project Abstract
The challenge: A fundamental problem with implementing change in a community is the lack of transparency between community members and decision-makers.
The solution: Upshot is a community-based feedback platform designed to encourage feedback from all members of a community, improving communication between decision-makers and the community as a whole. Upshot is designed to keep everyone engaged and accountable. It prevents the us-versus-them mentality that can develop in hierarchical communities by making consensus visible, keeping a record of changes made in the past and those in progress, and providing a platform for decision-makers to explain their reasoning to the community.
Home page
1. All members of the community are invited to provide suggestions for improvement.
2. Tabbed system lets viewers navigate to the most upvoted suggestions in a range of categories.
3. Icons scale with the number of upvotes and comments they have received, making consensus clear at a glance.  This system ensures that decision makers are able to focus on what matters most to the community.
4. Any community member may upvote, comment, or write a new post. All posts are identified by name to ensure that comments are about helping, not griping. Because community members can see visible progress being made on their concerns, the focus stays on fixing the problem.
5. The opportunity to contribute is offered again after the viewer has scrolled through the current issues.
Feedback: A facet of productive discussion
Our project started with a simple truth: Communication is HARD.
If one can be easily misunderstood even among friends, what are the best approaches to communicating with those we don't know well?  Feedback is an area where productive discussion is often encouraged in theory, but rarely in practice. We encounter barriers to productive discussion every day, and we wanted to find out what tools and strategies could be used to help overcome these barriers.
We used the industrial design department at RISD as an environment to understand existing feedback systems, and see any opportunities for improving them. We interviewed students, faculty, and staff to hear about their experiences with the department and how feedback is given within it.
Here are the primary barriers we identified: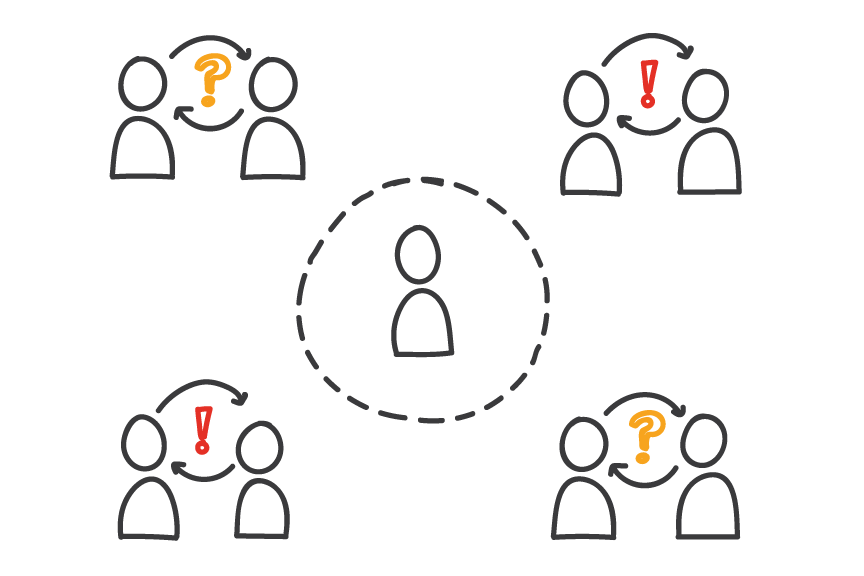 Isolated discussions
Community members speak primarily to one another to ask questions or vent frustrations, meaning leadership remains unaware of the best changes for the community.
Invisible consensus
Leadership has no way of knowing to what extent a concern is shared by the community as a whole when an individual community member meets with them.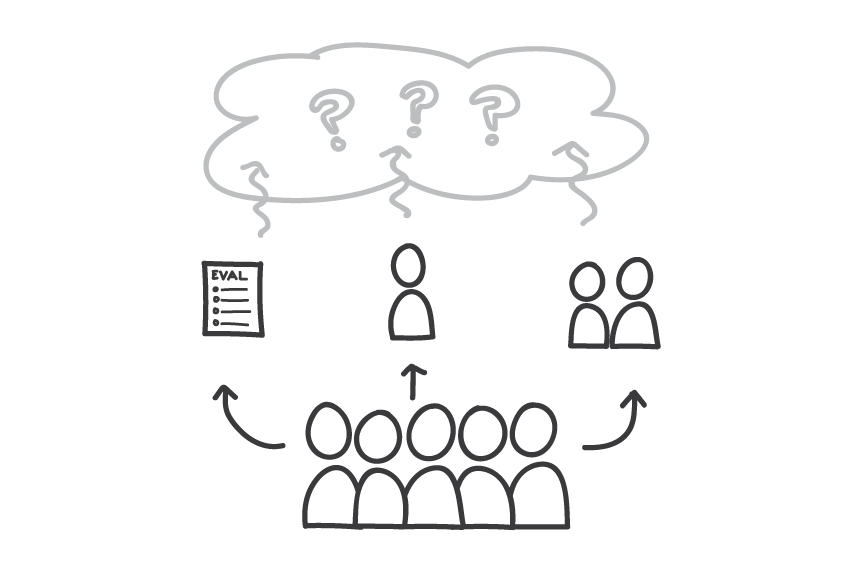 Ambiguous results
There are multiple pathways for community members to provide feedback, but they cannot see whether their contribution changed anything, which degrades their faith in the system. They are less likely to contribute in the future.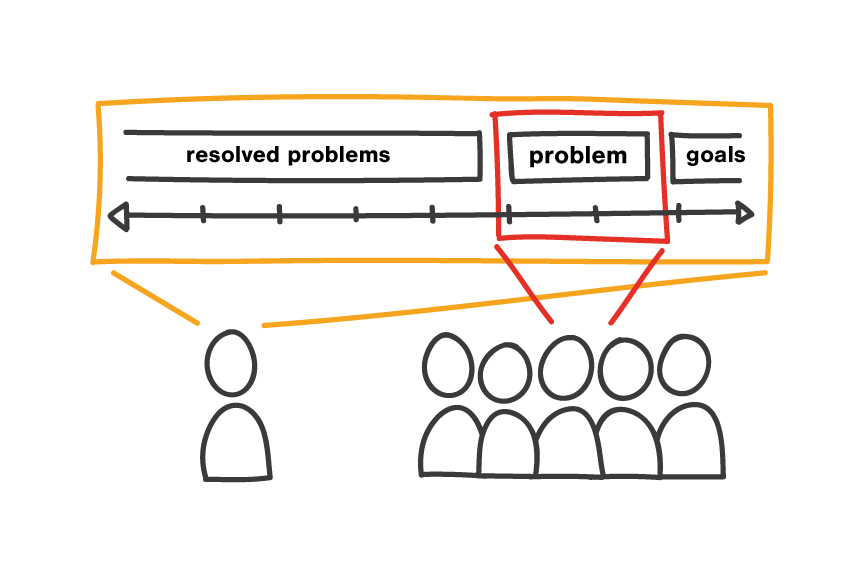 Different timescales
Community members often rotate through the community at a faster rate than leadership, meaning they lack context. Leadership can get frustrated when community members do not recognize improvements that were made in the past. 
Project Approach
Timeline: 8 weeks
Aidan Hudson-Lapore conducted interviews, designed interventions and experimental stimuli, analyzed and synthesized research findings, contributed to final design concept, documented process, and was responsible for shooting and editing the final pitch video.
Janice Gan conducted interviews, designed interventions and experimental stimuli, analyzed and synthesized research findings, contributed to final design concept, and executed the final website and logo design.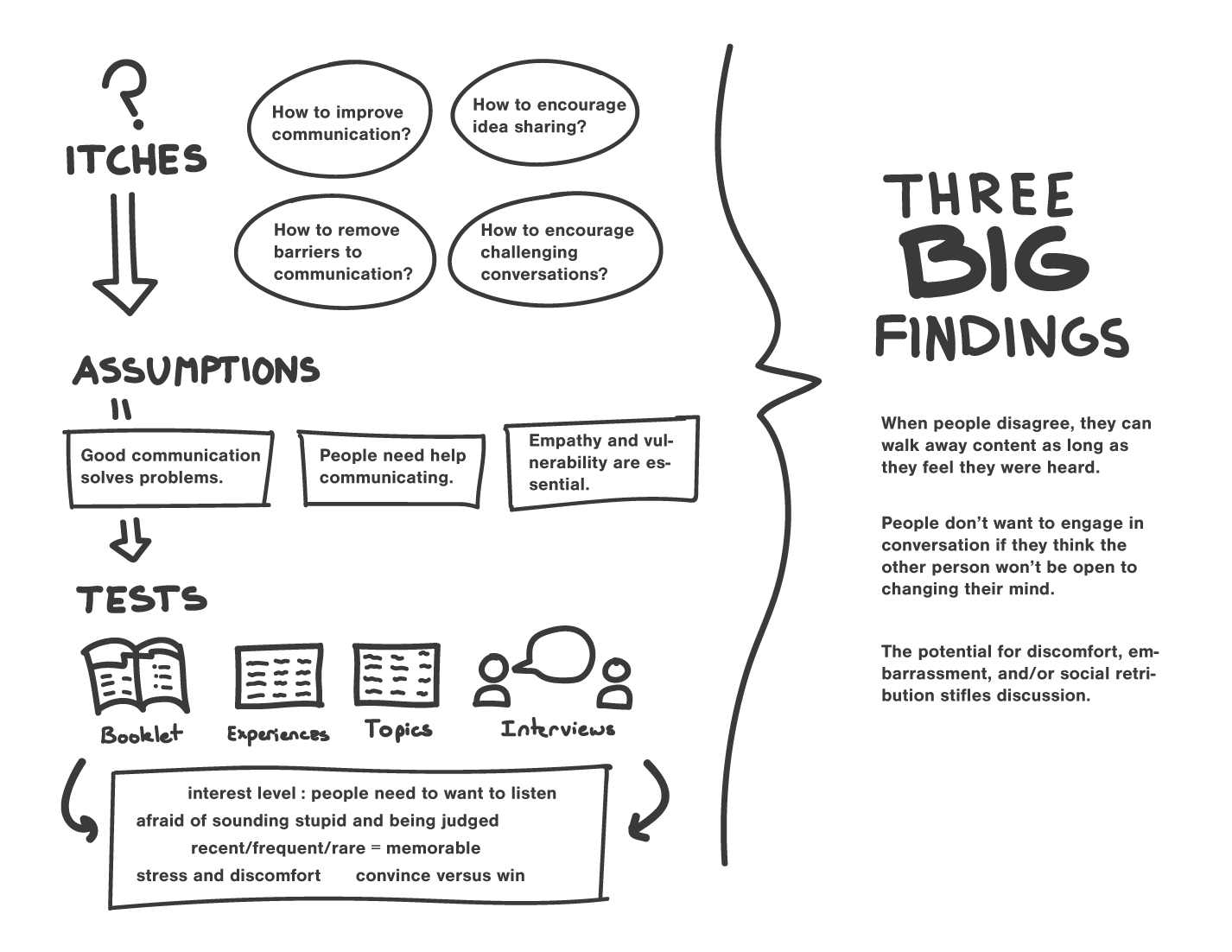 Proof of concept of the benefits of a new feedback system.
To demonstrate how increasing the visibility and ease of providing feedback could provide a larger volume of responses than the department's current methods, we created a feedback mascot. We  visited each floor of the department and invited people to submit the things they most wanted addressed in the department. People could submit as many or as few suggestions as they wanted. 
This pilot let us test how much people would engage with a new feedback system if given the opportunity. As a comparison, we posted a survey to the department student facebook page to solicit responses. The difference was substantial.
Responses to survey: 14
Responses to pilot test: 106 
Step 1:
Go to each floor of the building and invite community members to submit changes  they would like the see in the department.
Tests willingness of community to provide suggestions when given an opportunity.
They were.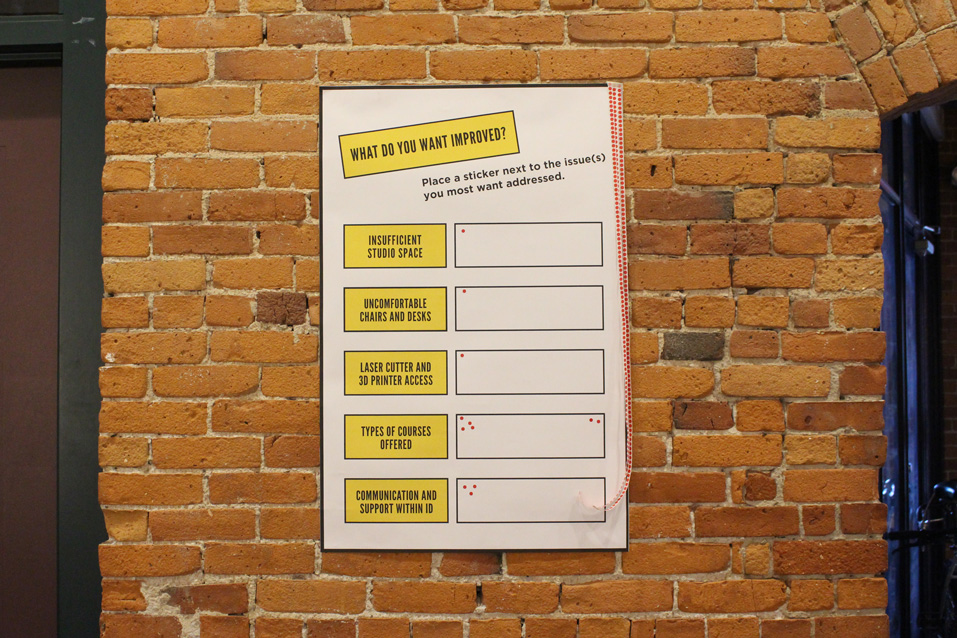 Step 2:
Compile all responses and select the top five topics that were most important to the community.
Tests level of consensus among community members on specific suggestions to improve the community.
There was.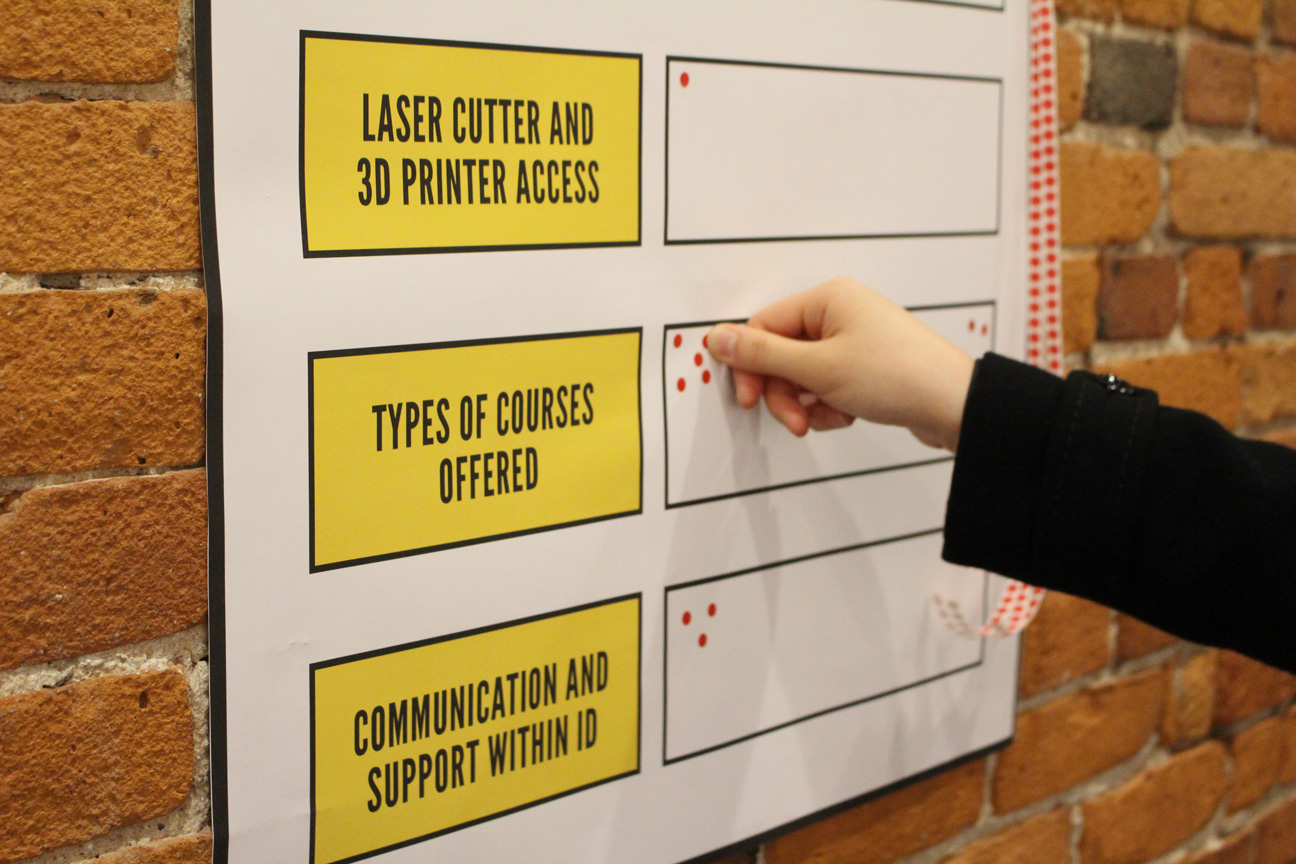 Step 3:
Allow community members to endorse suggestions that are most important to them.
Tests willingness of community members to endorse suggestions that are not their own and provide useful aggregate feedback.
They did.
4 surveys, 8 in-depth interviews, 1 design experiment, and 1 interactive prototype
This project was researched and designed over the span of eight weeks by me and Janice Gan. Together, we conducted interviews, designed interventions and experimental stimuli, and analyzed our findings to develop a final design concept. Below are selected excerpts from our process.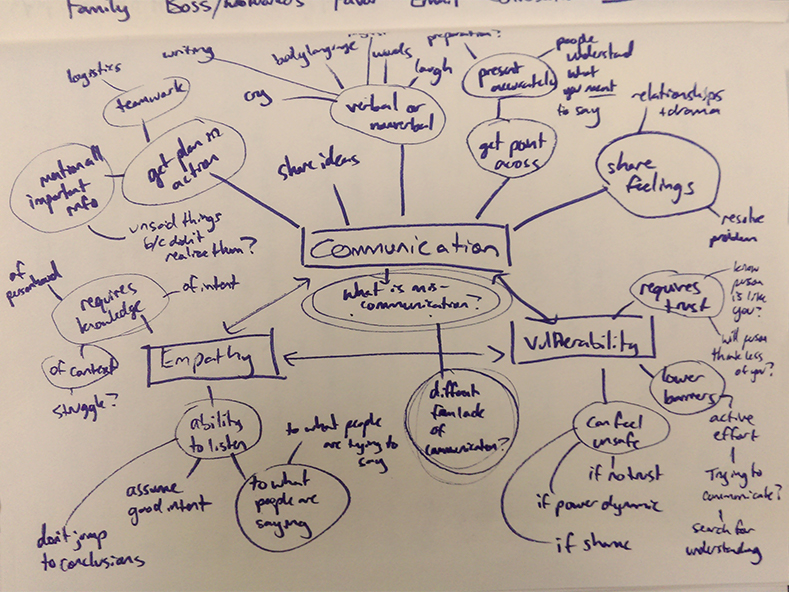 Problem definition
Our project began with a desire to examine communication and the ways it can break down in everyday life.
We brainstormed areas of need in communication, and arrived at three framing questions:
1. How do you get people to communicate better?
2. How do you remove barriers to communication?
3. How do you encourage productive discussion that people would normally avoid for fear of discomfort?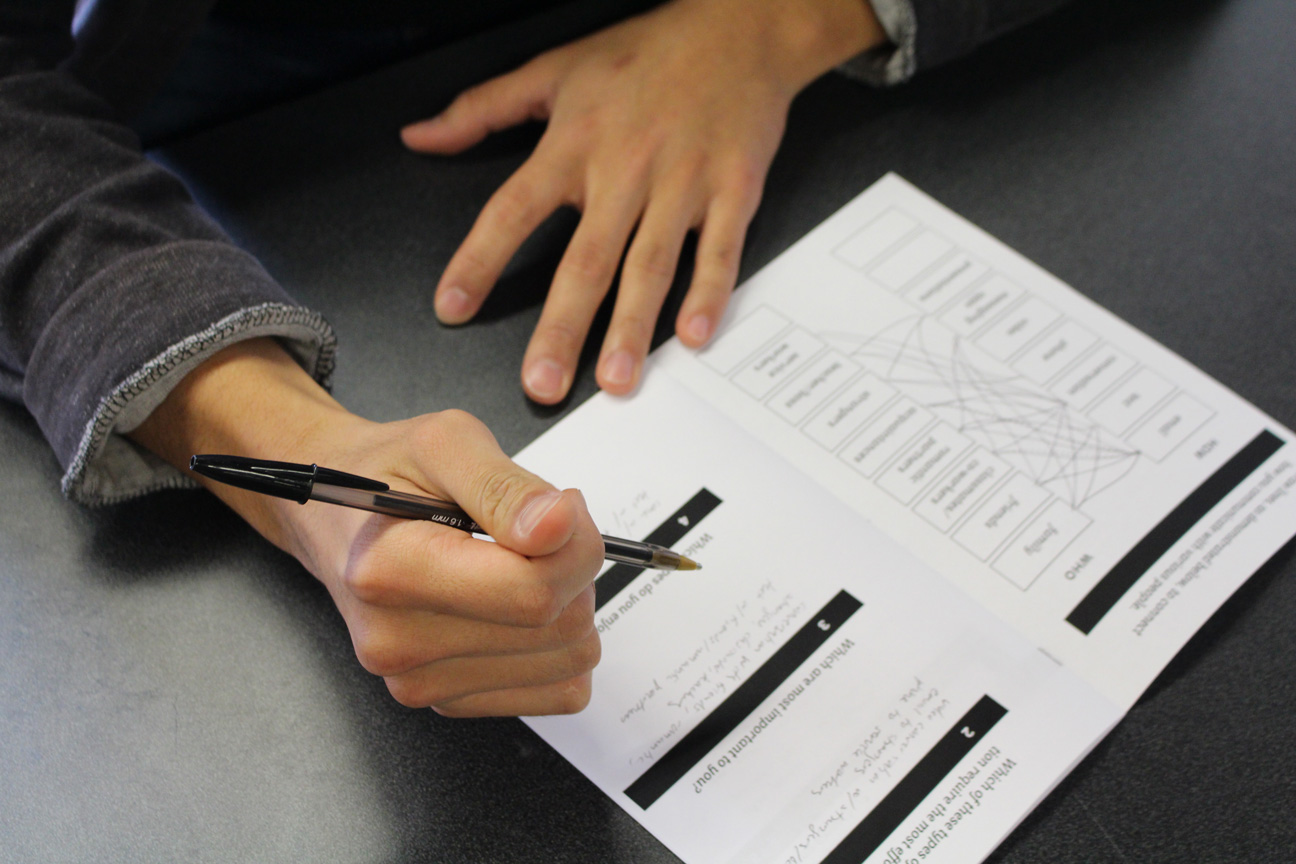 Problem framing
Our starting assumption was that life is better when people feel able to talk with one another about difficult issues. The first step to developing effective solutions is to identify specific problems, so we reached out to others in order to identify patterns that help predict whether communication will go well or end badly.
Methods:
1. Distributed a booklet in which participants identified what they defined as good communication, who they regularly communicate with, how they do so, and notable experiences (good and bad) during communication.
2. Guided interviews in which participants circled topics they seek out and avoid, then identified specific experiences that happened to them during communication. We used this sheet to discuss their answers in more detail.
Takeaways:
1. Unless prompted otherwise, people view communication in context of their close relationships, not the interactions they have at work or in the world.
2. Generally, people's most vivid memories are of strongly positive or negative interactions. Recent and frequent events were also memorable.
3. People seek out discussion about topics they are interested in, but only if they aren't worried that they will come across as ignorant or insensitive.
4. Many people who would otherwise have been interested in discussing heavy topics like race or economic inequality avoided these topics for fear of being judged harshly.
Problem exploration
What predicts whether a discussion will be productive? We went in-depth with eight people to find out how they approached discussing a topic they felt strongly about. Half were told to convince us of their position, and half were told simply to explain it. Afterwards, we asked them whether they had discussed this topic before, and whether the discussion was successful.
Takeaways:
1. People are most willing to engage in discussion when they think the other person agrees with them, or is at least open to changing their mind.
2. The most productive discussions are those in which each party is willing to see where the other one is coming from.
3. People avoid discussion if they think it will be a waste of time and energy.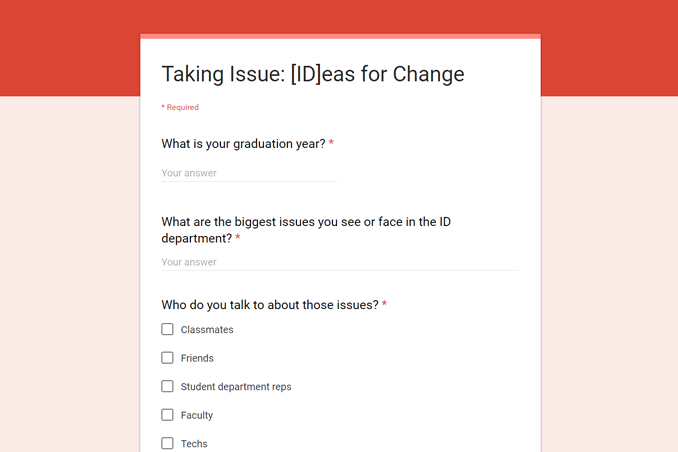 Feedback: a facet of productive discussion
These three main barriers create an environment in which people who would overall benefit from open discussion of ideas instead only approach those who they know to share similar views. This pattern is visible in many contexts, from tight social groups to large organizations. Our goal was to determine a forum where a design intervention would be the most meaningful.
We settled on feedback systems as an area rich for design intervention. We applied our insights about communication in general to the specific problem of improving feedback systems.
We used the Industrial Design department at RISD as a test case to research feedback systems and develop what eventually became Upshot.