Client: Personal project, now hosted by ClimateDesigners.org | Role: Research and writing | Year: 2020
Abstract
The climate design guide is a three-part resource to help design professionals turn their climate anxiety into climate action. It's currently hosted on ClimateDesigners.org as a resource for all new members of the climate design community, and lives freely on the internet as a google doc.
Challenge
A growing number of designers want to use their professional skills to address the climate crisis, but don't know where to start. When I began searching for opportunities to apply my design skills to climate action, it quickly became clear to me that there aren't many resources to support designers who want to transition their careers to focus on climate action. I wrote this guide to bridge that gap.
I'm happy to report that since I first published this guide, several other organizations have emerged to help designers looking to transition to a climate-positive career.
Here are links to a few:
Approach
Take a positive and empowering tone that is focused on solutions, rather than problems alone.

Offer a definition of "climate design" that designers from multiple disciplines can identify with.

Make the case for design's role in climate action.

Provide an approachable summary of the current landscape of climate solutions, drawn from Project Drawdown, the UN Sustainable Development Goals, and the Principles of Climate Justice from the Environmental Justice Leadership Forum on Climate Change.

Highlight specific sectors and issue areas that designers can get involved in. 

Summarize design-specific career, volunteering, and advocacy actions and resources.
Outcomes
The climate design guide is a featured resource on ClimateDesigners.org, and is serving as a way to help new members get involved in the climate designers community.
Part 1: What is climate design?
Defining climate design and sustainability
How to solve climate change
Why the world needs climate designers
Part 2: What can you do as a designer?
Find your place in climate and sustainability
Identify your path to get there: career, time, voice
Part 3: How do you start?
Building your career in climate design
Using your time for climate design
Using your voice for climate design
Building your climate design network
This is brilliant – I'm new to the concept of CD… and already practising some aspects but finding it overwhelming to work out where I fit in and there is a pressure to know everything or to be an expert in every area before telling the world I'm a climate designer.
"Absolutely perfect timing! Thanks, Aidan Hudson-Lapore (she/her)  for putting this together. My niche was climate change and now that I am a UX designer, I am finding it hard to work in companies with a related mission. Big ray of hope!"
"This is really helpful for a newer UX Designer looking to find my niche – I've finally found it!"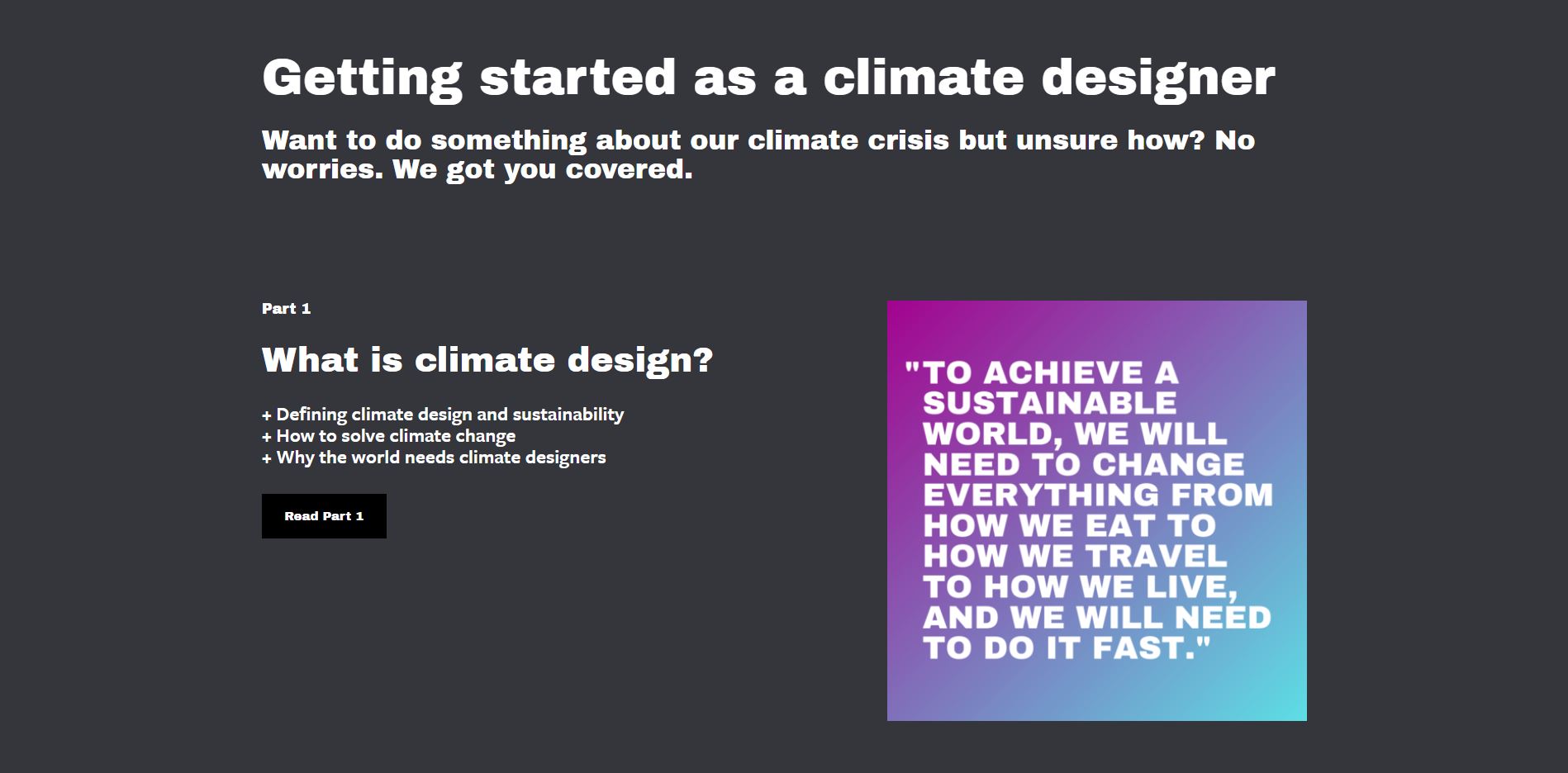 Featuring the resource on ClimateDesigners.org
I worked with Marc and Sarah to translate the guide for MightyNetworks, the online platform for the Climate Designers community. The guide is shared with new members as part of onboarding and orientation for new members.